F E B R U A R Y 2 0 1 9



michael glenwood www.michaelglenwood.com 703.502.3400 email

January came in like a lamb and went out like a lion—at least workwise. A breezy mix of assignment work gave way to a blizzard, as I found myself also working on a book project, updating my website, and putting together a stock illustration collection (details to come). Here are some bits and pieces, as well as news about the new and improved website.



The Plague of Fake News

Hot off the press, a cover illustration for Contingencies magazine. The article provided an interesting look at the proliferation of fake news being disseminated via social media, and how you can protect yourself and get the straight facts. A fun piece, with art direction by Tom Specht of BonoTom Studios.


For the LA Times: Netflix's Hidden Figures

A piece for the LA Times about the secrecy maintained by Netflix, which releases precious little information about viewership, ratings, and other metrics; information that is valuable to, for example, studios negotiating a movie deal or syndication rights with Netflix. Because such studios are operating in the blind, we decided to go with a theme related to blindfolds and the recent Netflix hit, Birdbox.


Creative Quarterly 52 on the Newsstand

It's always an honor to have work accepted into Creative Quarterly, but it's especially cool to see it published full page. This piece, done for The Dallas Morning News, accompanied an article describing how women romance novelists are now injecting feminist themes into their stories. Thanks to CQ52 for the honor, and to Michael Hogue for his art direction. (A brief story about this piece, and Mr. Hogue's art direction, appeared in the March 2018 newsletter.)


Immigrant Workers

A look back at an illustration I did for the National Labor Federation... one of those pieces that netted multiple awards. It seems as timely as ever, since President Trump's vocal disdain for immigrants means this topic—and his wall—is perpetually in the news. The theme of this particular piece was immigrants working hard to lift themselves up; or as I saw it, planting the seeds of their own success. One of many pro-bono pieces I've done for the organization for many years now.


Steeeee-rike!

As a baseball fan I felt a sense of disappointment and contempt as I read a recent story about a possible baseball strike this season, centered on the issues money and free agency. As with the 1994-95 strike, I was hard pressed to decide who was greedier: the players or the owners. Both, it would seem. Back then, I had a tee-shirt company and we produced a strike-related tee which turned out to be our best-selling item. Until, that is, we had to stop selling them when we were hit with a cease-and-desist order from Major League Baseball, which was unable to distinguish the fine line between infringement and parody.


A new website
While my older website www.mglenwood.com isn't going away any time soon and will continue to be updated, I plan to focus my efforts on the new site, which has been hosting these newsletters (and doing little else beyond gathering pixel dust). It now features the usual... artwork, bio, contact info, and more... and will soon offer signed, limited edition giclée prints for sale. Take a look.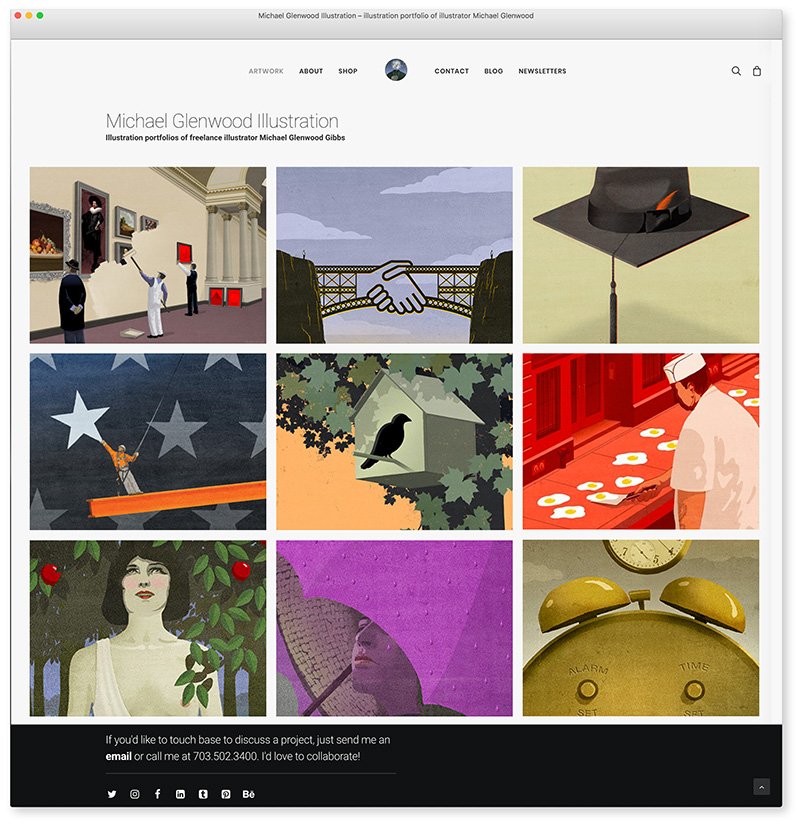 Privacy and anti-spam notice: It's not my intention to spam. You've received this e-mail because you're a client or you've expressed an interest in receiving e-mails related to illustration. You can unsubscribe at any time at the bottom of each newsletter. I respect your privacy and do not share, sell or trade e-mail addresses with anyone! --Michael Glenwood
Michael Glenwood Illustration 3018 Floyd Avenue, Richmond, VA 23221 703.502.3400

Copyright © 2019 Michael Glenwood Gibbs. All rights reserved.

www.mglenwood.com 703.502.3400 email