J U N E 2 0 1 8



michael glenwood gibbs www.mglenwood.com 703.502.3400 email

Some recent work, and a couple of timely pieces from the archives.

Hooked

Meeting your perfect match—your "other half"—online. A thought on people meeting their soul mates, as each searches for that person who reflects, but doesn't necessarily mirror them.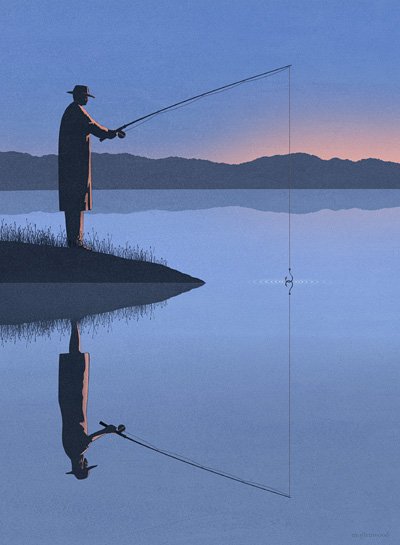 Now boarding

A recent illustration for the LA Times about the various animals air travelers have brought aboard as "comfort animals." Among them: cats, pigs, dogs, peacocks, monkeys and ducks.


Scene/not seen

An homage to Magritte's Son of Man, updated for the digital age. I have long wondered at all the things people miss in this age of selfies and living with our heads (and minds) perpetually in phone screens. In trying to capture a moment, the moment is never fully experienced. Magritte pondered the idea that "everything we see hides another thing, and that we always want to see what is hidden by what we see... the conflict between the visible that is hidden and the visible that is present." So it is with smart phones; in trying to capture every moment, the visible that is present is hidden by the device that's attempting to capture it.


The new red scare

An illustration that again seems relevant, as the current president ratchets up Americans' fear and hatred of "the other"—particularly those with brown skin. His policy of dealing with illegal immigration by separating children from parents at the southern border is a callous, heartless act that echoes the sort of hatred and intolerance exhibited by far too many MAGA-cap-wearing supporters... and the KKK.


A close-up of the insignia... in which interlocking T's replace the white cross, and a red twitter bird replaces the blood drop.


Split decision

"Split Decision" was created for a university alumni magazine's feature on making decisions—sort of. Because I often submit many more sketches than is necessary, I sometimes find myself taking unchosen sketches to final, or creating variations on published illustrations... just because. Such was the case with this one, a slight variation of an illustration which was one of a series of three accompanying the article.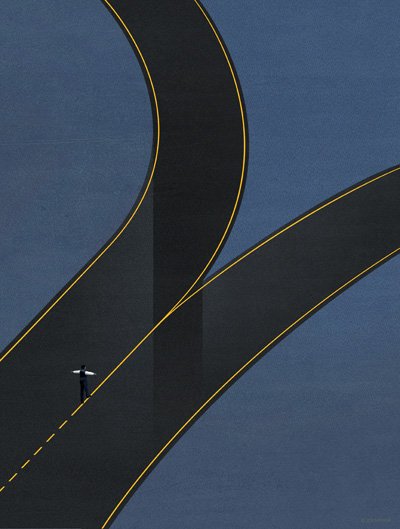 Like father, like son

With North Korea being in the news recently, I thought I'd pull this one out of the archives and dust if off. Titled Nuclear Neurosis, and done for the Union of Concerned Scientists, it depicts Kim Jong Il (father of the current dictator Kim Jong Un), and his nuclear ambitions.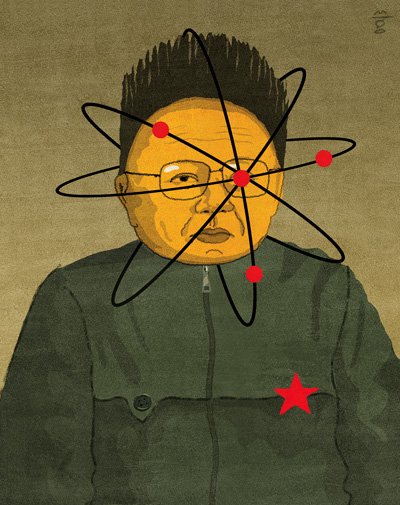 It's so hot...

Another one from the archives, presented in honor of Richmond, VA's recent blast of 100°-plus air. Several years ago, the New Yorker ran an ongoing contest on its blog (called "Blown Covers") in which artists were invited to submit hypothetical cover art based on New Yorker-like themes assigned by the magazine's art director, Françoise Mouly. The theme changed every couple of weeks, and the theme for this particular "issue" was "Man, it's hot!" A fun piece, whose protagonist was based on my recollection of the short order cook at a diner I frequented... although that cook always had his cigarette dangling from his mouth, with a curl of ash that he managed to flick off just before it fell onto the grill.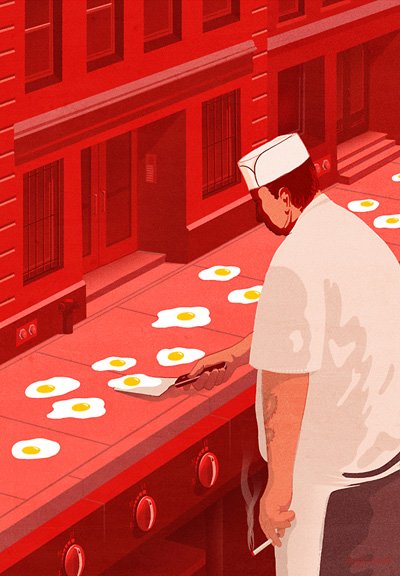 Privacy and anti-spam notice: It's not my intention to spam. You've received this e-mail because you're a client or you've expressed an interest in receiving e-mails related to illustration. You can unsubscribe at any time at the bottom of each newsletter. I respect your privacy and do not share, sell or trade e-mail addresses with anyone! --Michael Glenwood
Michael Glenwood Illustration 3018 Floyd Avenue, Richmond, VA 23221 703.502.3400

Copyright © 2018 Michael Glenwood. All rights reserved.

www.mglenwood.com 703.502.3400 email