M A R C H 2 0 2 3
michael glenwood www.michaelglenwood.com 703.502.3400 email strong>
February was busy, with several illustration projects and a winter-break snowboard trip (a perk of having a college age son). No time for a February newsletter, but here's a sampling of recent work for March.
Whitewash in Florida
A recent piece for The Economist, about Florida governor Ron DeSantis's "takeover" of New College of Florida and Florida public education in general. His agenda includes eliminating critical race theory, AP Black Studies, and enacting policies such as what's known as the "don't say gay" law. Given the liberal leanings of New College and its progressive, free-wheeling student body, the policies caused considerable controversy at the school.
Because of concerns by the editor that the white paint could be misinterpreted as suggesting white supremacy, the artwork was revised at the last minute. I replaced the white paint with red (Conservative politics), which meant reversing the order of colors in the rainbow, and altering the color of the sky. Fortunately, such revisions rarely happen, but alas, they're a normal part of the job.
Talk it Out or Fight it Out?
Also for The Economist. Students at New College found themselves in one of two camps: talk it out with the new board (installed by DeSantis) and find common ground, or protest against a board who seemed unwilling to listen. The split threatened to sabotage the student body's response to the action.
Pink Slips
For The Wall Street Journal. For foreign workers with H-1B visas, it's a mad rush to beat the clock if they lose their job. They have 60 days to find a new one, or be sent packing.
WSJ "Outtake"
An illustration based on an unselected sketch for the assignment about H-1B workers for the WSJ. When working on concepts, I often try to boil down articles to a paragraph, or even a single sentence or two, and "beating the clock" seemed appropriate for workers facing a 60-day deadline to find a job. It worked well in this case, with 60 suggesting both a clock/stopwatch and a 60 day deadline.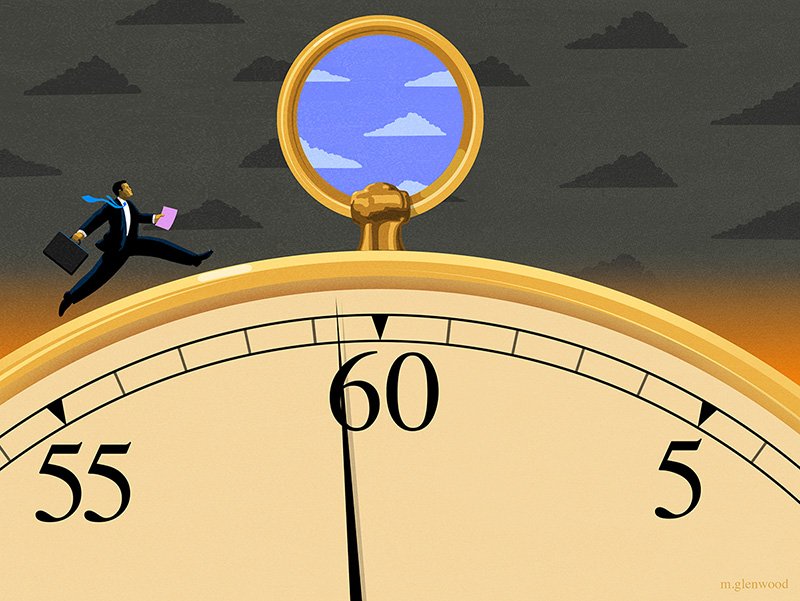 Going Green
With St. Patrick's Day around the corner, here's a "green" illustration. For the American Institute of Architects, an article about how older and younger generations differ in making their houses "green".
Bullet the Blue Sky
When I'm not doing illustration and am feeling creative, I sometimes work on etchings (mezzotints, actually) or artist's books. This is from a book of images based on song lyrics that mention colors. The book is 12" x 12" (vinyl album cover size), with a coptic stitch binding and 30 tipped in plates. Bullet the Blue Sky was inspired by a U2 song of the same name.
The Tragedy of SIDS
Based on an unused sketch about the tragedy of Sudden Infant Death Syndrome, for The Economist. Many sketches were submitted, and the client ultimately chose a sketch similar to this one. I liked both, and—as I often do with favorite unselected sketches—took this to final on my own.
Stock images
Stock images are available for licensing through the ispot, a premium stock illustration licensing site.

Privacy and anti-spam notice: It's not my intention to spam. You've received this e-mail because you're a client or you've expressed an interest in receiving e-mails related to illustration. You can unsubscribe at any time at the bottom of each newsletter. I respect your privacy and do not share, sell or trade e-mail addresses with anyone! --Michael Glenwood
Michael Glenwood Illustration 4712 King William Road, Richmond, VA 23225 703.502.3400

Copyright © 2023 Michael Glenwood Gibbs. All rights reserved.
www.michaelglenwood.com 703.502.3400 email strong>
represented by davidgoldmanagency.com 212.807.6627 email