J A N U A R Y 2 0 1 8



It's been ages since I last sent out a mailer,
thanks to a schedule that's kept my nose to the grindstone.
Hopefully the new year will be equally productive but a little less hectic.
Here's a little roundup of recent news.
If you'd like to see more, check out my website.
Questions or inquiries? Contact me at 703.502.3400 or send me an email.
—Michael Glenwood Gibbs
Two pieces accepted in Illustration West:
Society of Illustrators of Los Angeles Juried Exhibition

Museum Piece—an illustration created for the Los Angeles Times about a new approach to curating museum shows that involves quick turnaround exhibits that focus on unique, less common themes rather than the more traditional chronological overview of art or broad stylistic movements.

Museum Piece was also selected as a winner in Creative Quarterly 50, which will be published in May of 2018.


Also created for the Los Angeles Times, "Head in the Cloud" accompanied an article about the numerous choices available for listening to streaming music.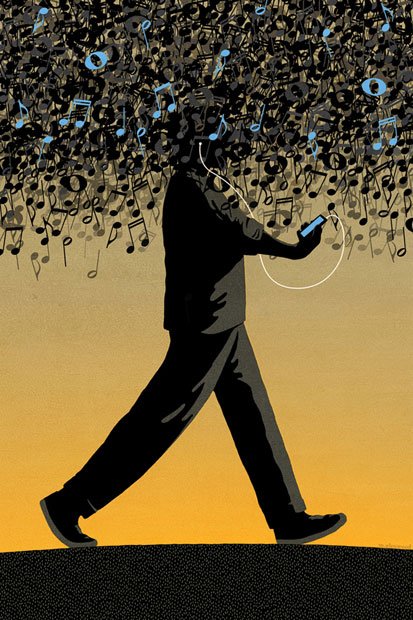 Just Because It's Cold Out There (14° in Richmond as I write this)

"Ice Flows" was created for the New Yorker Magazine's Blown Covers blog. The theme was "climate change" (titled "Baby It's Hot Out There") and envisioned global warming so severe that air conditioning might be needed at the polar cap.

Four pieces in Creative Quarterly 50

I am pleased to have four pieces accepted into the juried illustration journal Creative Quarterly 50. They will be published in Creative Quarterly 50—and go live online—in May 2018. These include Museum Piece (shown above) as well as the following three illustrations.

Chain Gang was done for the National Labor Federation's 2018 calendar, an annual project for which I've regularly created pro-bono pieces for many years. The theme was "prison labor," which amounts to a form of invisible slavery that disproporionately affects minorities.

Sometimes I get carried away when providing sketches to clients. This illustration—"Leadership"—was based on one of nine sketches I provided a client, for a publication on the theme of team leadership and collaboration. The client—a large investment firm—was torn as to which sketch to go with, and eventually opted for two finished pieces rather than one; and this was not one of them. But I liked it, and—as I so often do—decided take it to final on my own.

"Train Tracking" was cover art created for a consulting firm's report on European efforts to measure the year-to-year progress of the European rail system.

Recent Work
Death of American Health Care Contingencies Magazine
For an article about the death of the American health care system.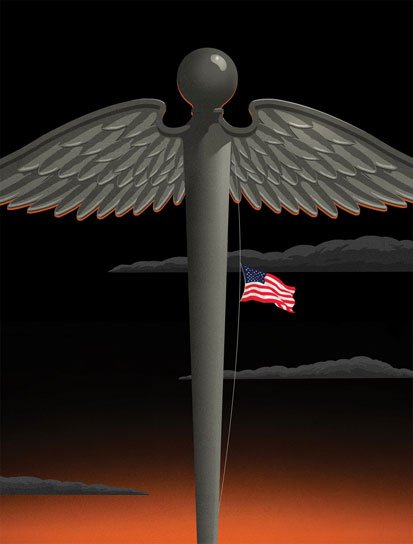 Charting the Way Boston Consulting Group
Cover art for a report on how executives can use data points to chart the way forward.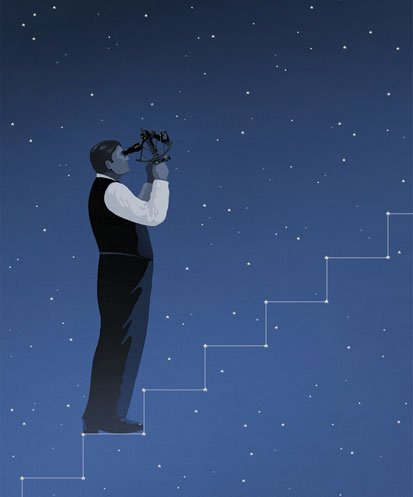 Religious Freedom and Peace Liberty Magazine
Cover art for an article about religious freedom and how it leads to peace (while religious intolerance leads to war).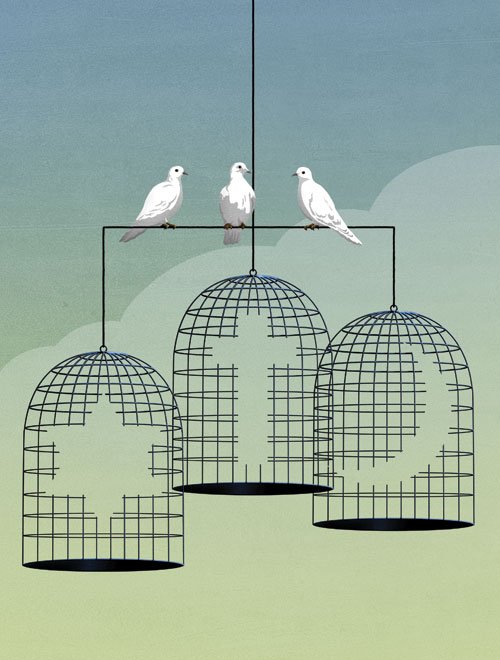 From the Archives

Intersection American Institute of Architects
Accompanied an article on form vs function for the AIA's signature magazine. This was one of several images in last year's Society of Illustrators show.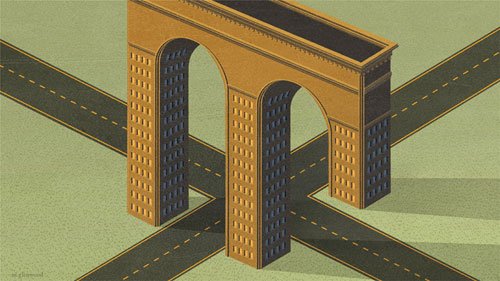 Baby It's Hot Out There New Yorker's Blown Covers Blog
A companion piece to "Ice Flows" (see above). This one was also done for the New Yorker Magazine's Blown Covers blog.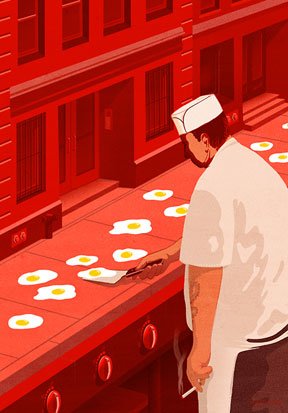 Privacy and anti-spam notice: It's not my intention to spam. You've received this e-mail because you're a client or you've expressed an interest in receiving e-mails related to illustration. You can unsubscribe at any time at the bottom of each newsletter. I respect your privacy and do not share, sell or trade e-mail addresses with anyone! --Michael Glenwood
Michael Glenwood Illustration 3018 Floyd Avenue, Richmond, VA 23221 703.502.3400

Copyright © 2018 Michael Glenwood. All rights reserved.
www.mglenwood.com 703.502.3400 email